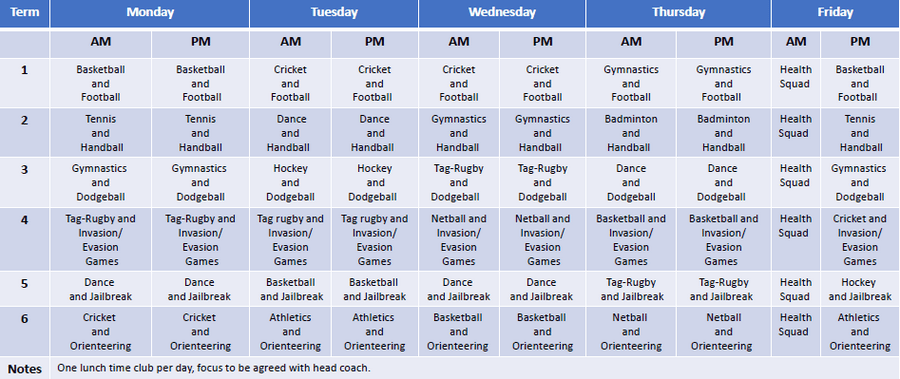 Intent
By the end of KS2, the curriculum intent for all children at Knowle Park Primary School is for them to have participated in, and recognise the value of, physical activity and sport via a range of different disciplines. This will encompass areas such as coordination, cooperation, positive thinking, good mental health and healthy choices.
Through competitive sports and activities, we aim to encourage the children to develop a positive approach towards making and learning from mistakes and to see losing as a growth opportunity, both in terms of skills development and socio- emotional gains such as sportsmanship and resiliency.
To facilitate children's sports provision, the school works in tandem with local professional and amateur clubs.
We strive for all children to access physical activity at their own level. This means a drive toward inclusive lessons and extra-curricular clubs, some of which are specifically focused at children with specific needs.
Our goal is that through a wide variety of sporting and physical opportunities, the children of Knowle Park will develop a life-long appreciation for the physical, social and emotional wellbeing benefits of an active lifestyle.
Implementation
Bristol Sport Foundation deliver PE lessons to our children at Knowle Park Primary School. They work collaboratively, to instil an intrinsic love of sport and physical activity. It is their goal to reach the most at-risk individuals and communities and support them to lead active, happy lives.
They deliver sports to cater for all of our children - basketball, cricket, football, tennis, handball, dance, dodgeball, hockey, tag-rugby, netball, badminton, athletics, gymnastics and orienteering.
Bristol Sport Foundation has a long-term commitment to use the power of sport and physical activity to inspire young people, families and communities.
Everyone at Bristol Sport Foundation cares deeply about their communities and the people who live in them. They use their passion, expertise, and enthusiasm to engage and inspire as many people as they can.
Bristol Sport Foundation is proud to develop sport and physical activity programmes to support individuals, families and communities that need it most. They understand the need for the charity sector to use an evidence-based approach and will continue to design, and refine smart technology systems with our partners to produce case studies and feedback that demonstrate their impact.
Impact
The children at KPPS will:
Be equipped with communication, teamwork and leadership skills through active engagement in PE lessons and game situations.

Be motivated to participate in a wide variety of sports both through the PE curriculum and extra-curricular competitive sport.

Take an increasing responsibility for their own health and fitness.

Will develop a life-long appreciation for the physical, social and emotional wellbeing benefits of an active lifestyle.

Build their resilience and develop their growth mindset when things aren't going as well as they had hoped.

Enjoy participating in sports and being part of a team.